What is GUTolution Precision Probiotics Program?
With 90 days customized probiotics, the GUTolution Precision Probiotics Program is an affordable personalized microbiome health solution for reversing chronic illness at home. It merges at-home gut health test, personalized recommendations on diet and lifestyle, GMP-standard custom probiotics and mobile-based virtual coaching, powered by microbiome biotechnology, translational neuroscience, shotgun sequencing and machine learning.
How does it help?
The Precision Probiotics help with bloating, leaky gut, constipation, diarrhea, and abdominal pain. In the long term, it can improve your immune system and brain functions. With a more precise probiotic formulation, your gut can have targeted improvements. Along with our mobile-based lifestyle recommendations and virtual coaching, your gut health will greatly improve and so will your overall wellbeing.
*New customers who subscribe for the first time, can enjoy a free re-formulation of their personalized probiotic if needed.
Connect with our team to check out the latest discounts and Probiotics Guide 2023!
Regular price
HK$2,850.00
Regular price
Sale price
HK$2,850.00
Unit price
per
Sale
Please Contact Us
Share
View full details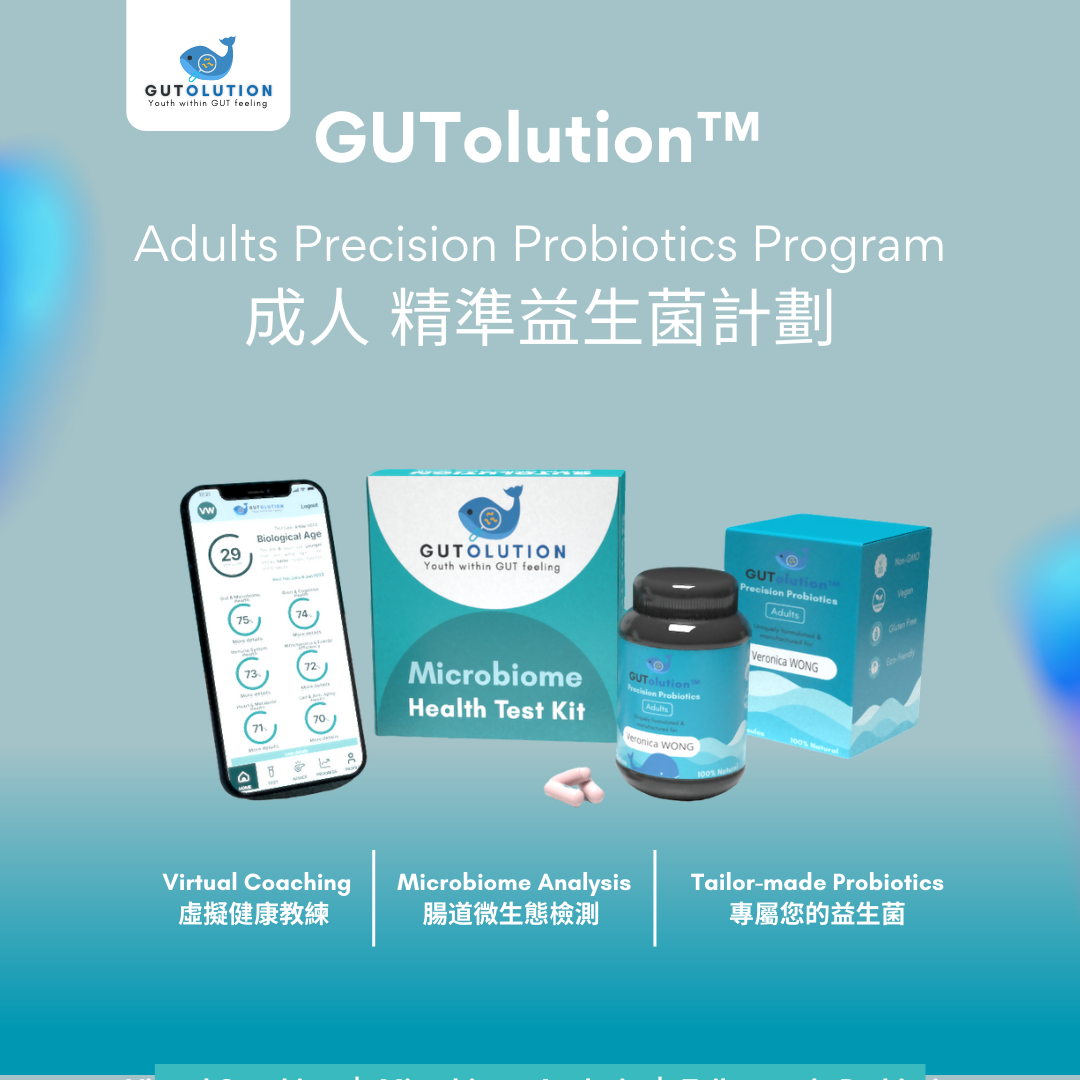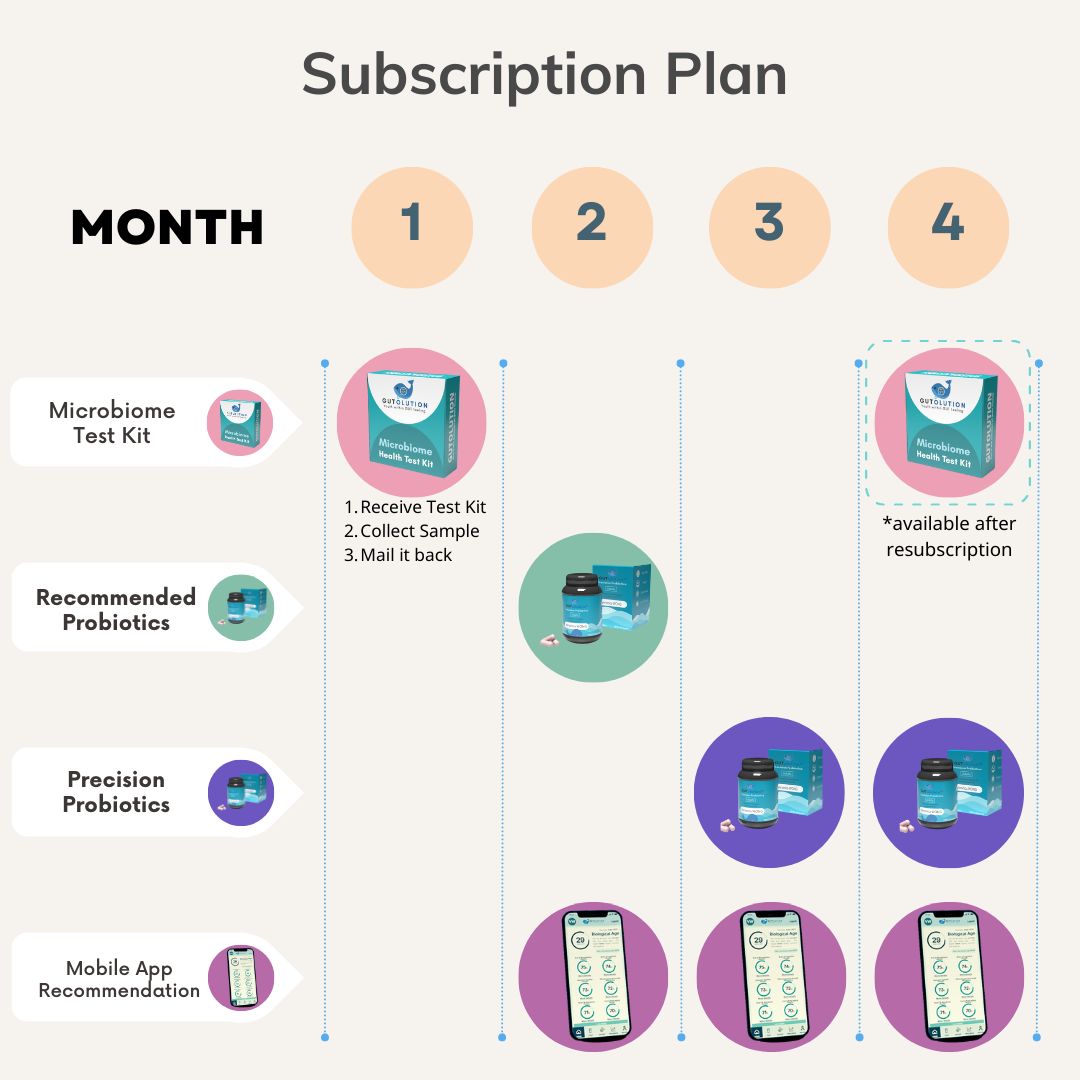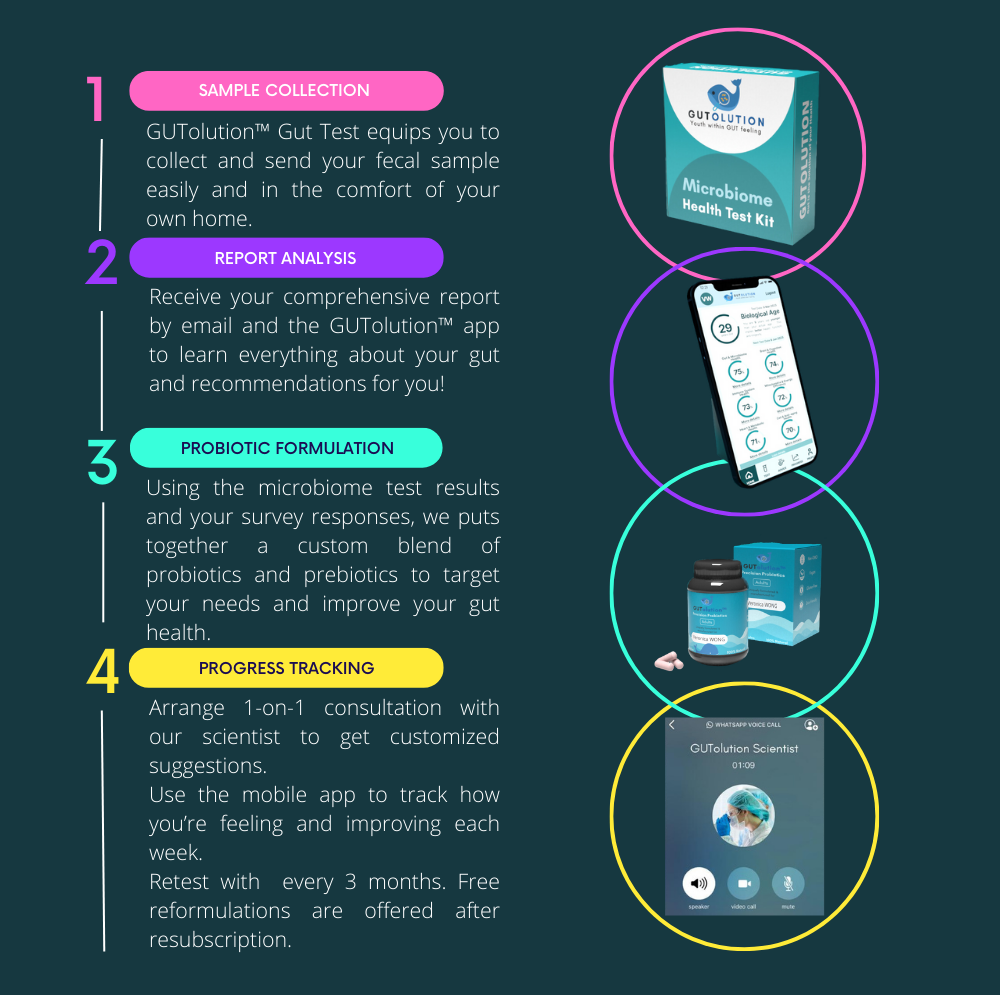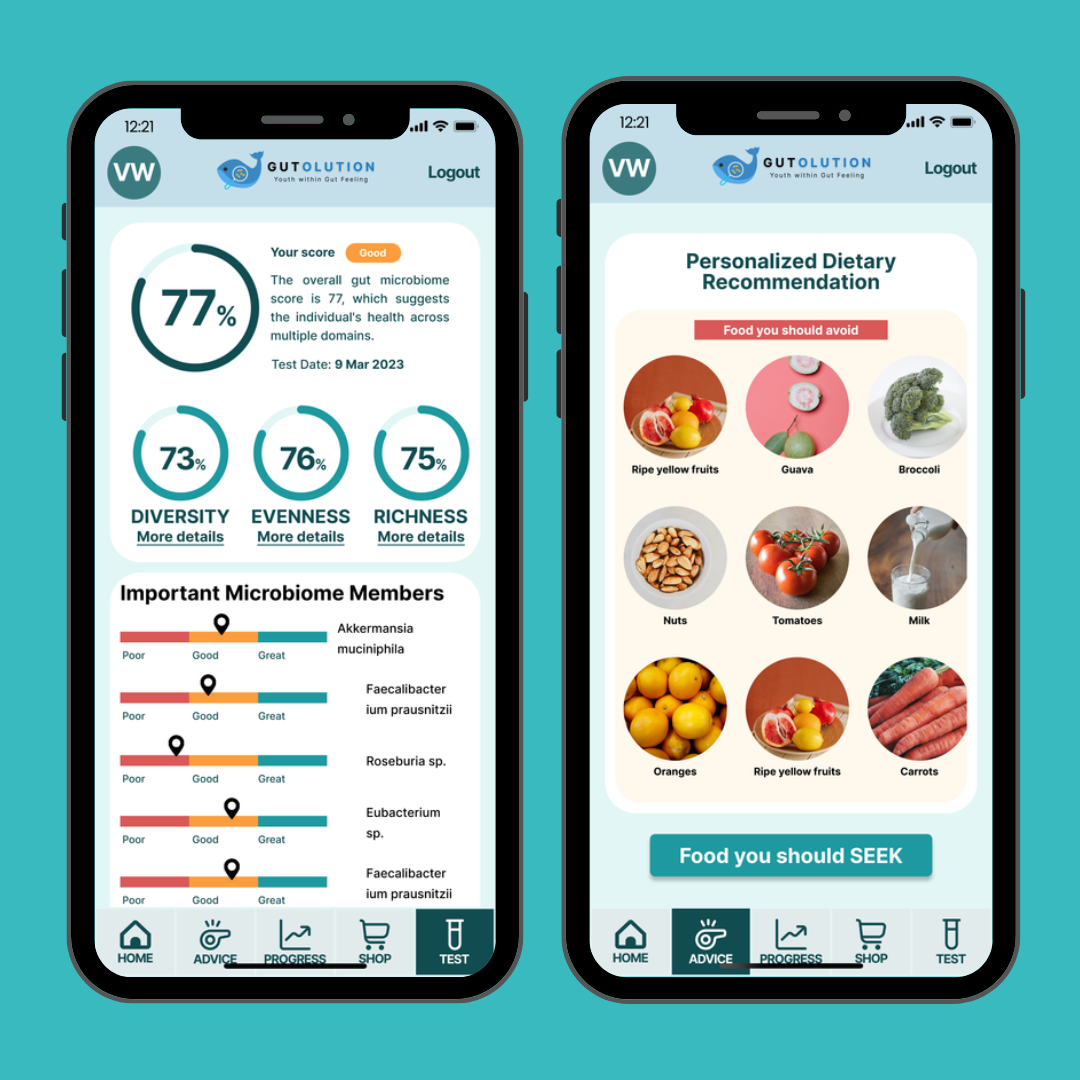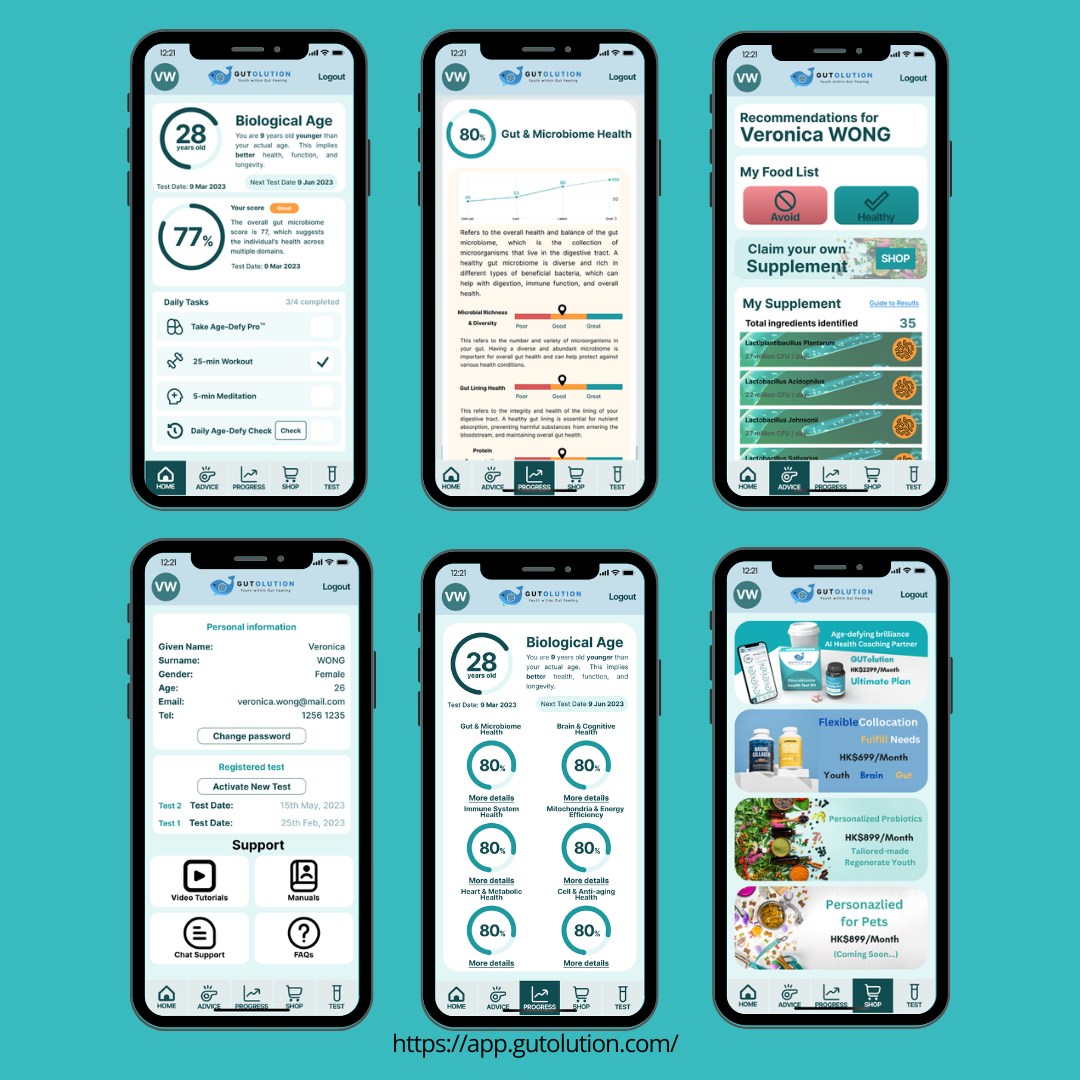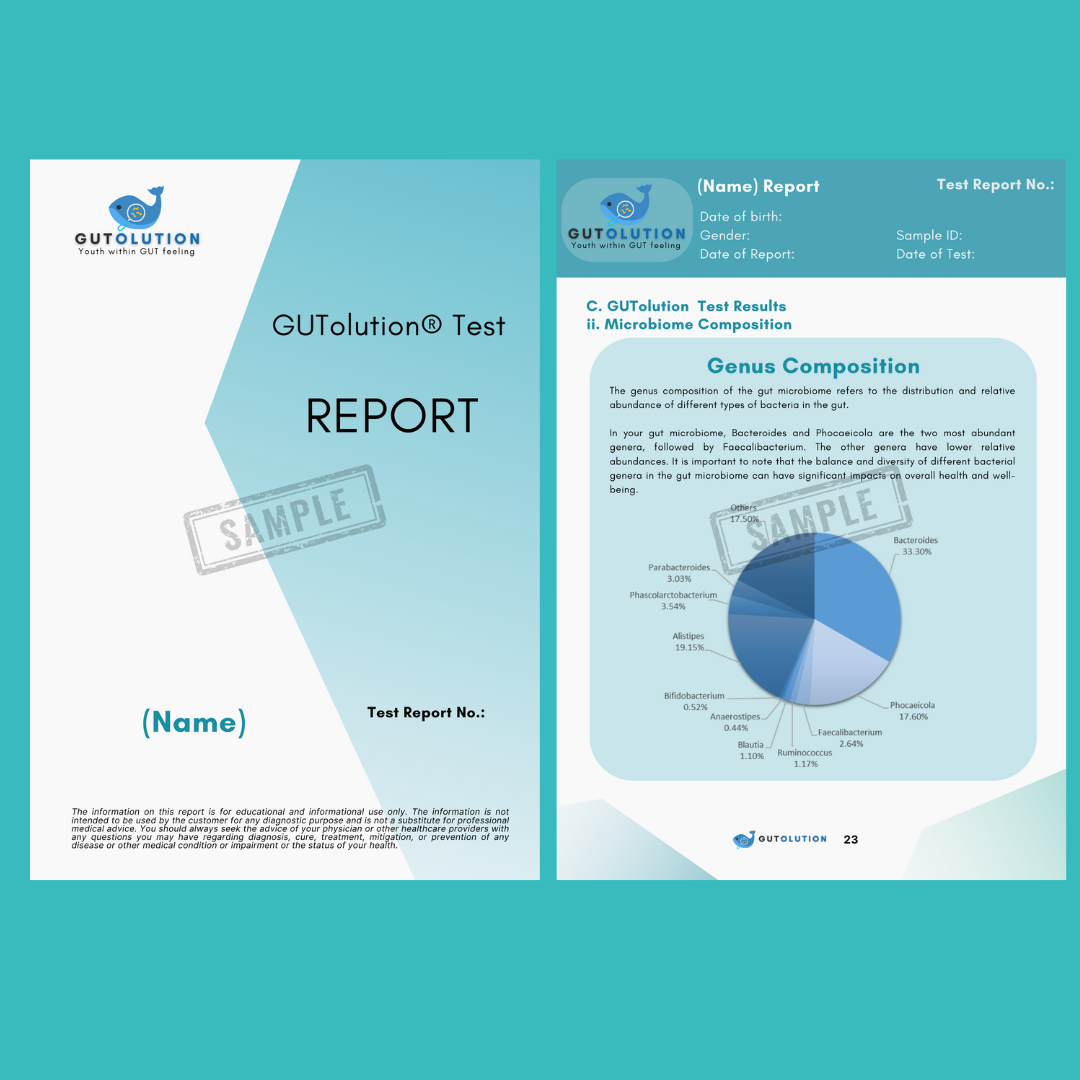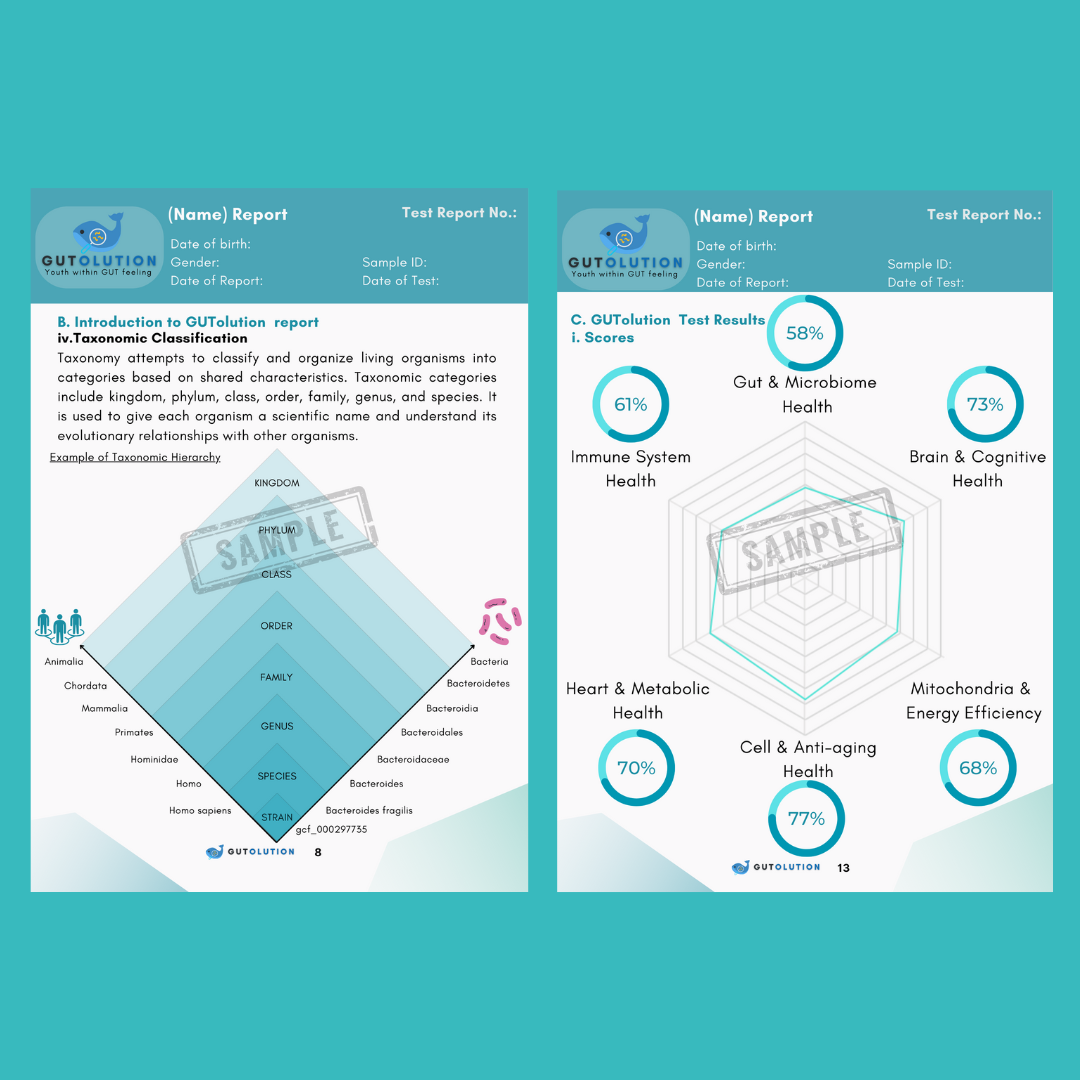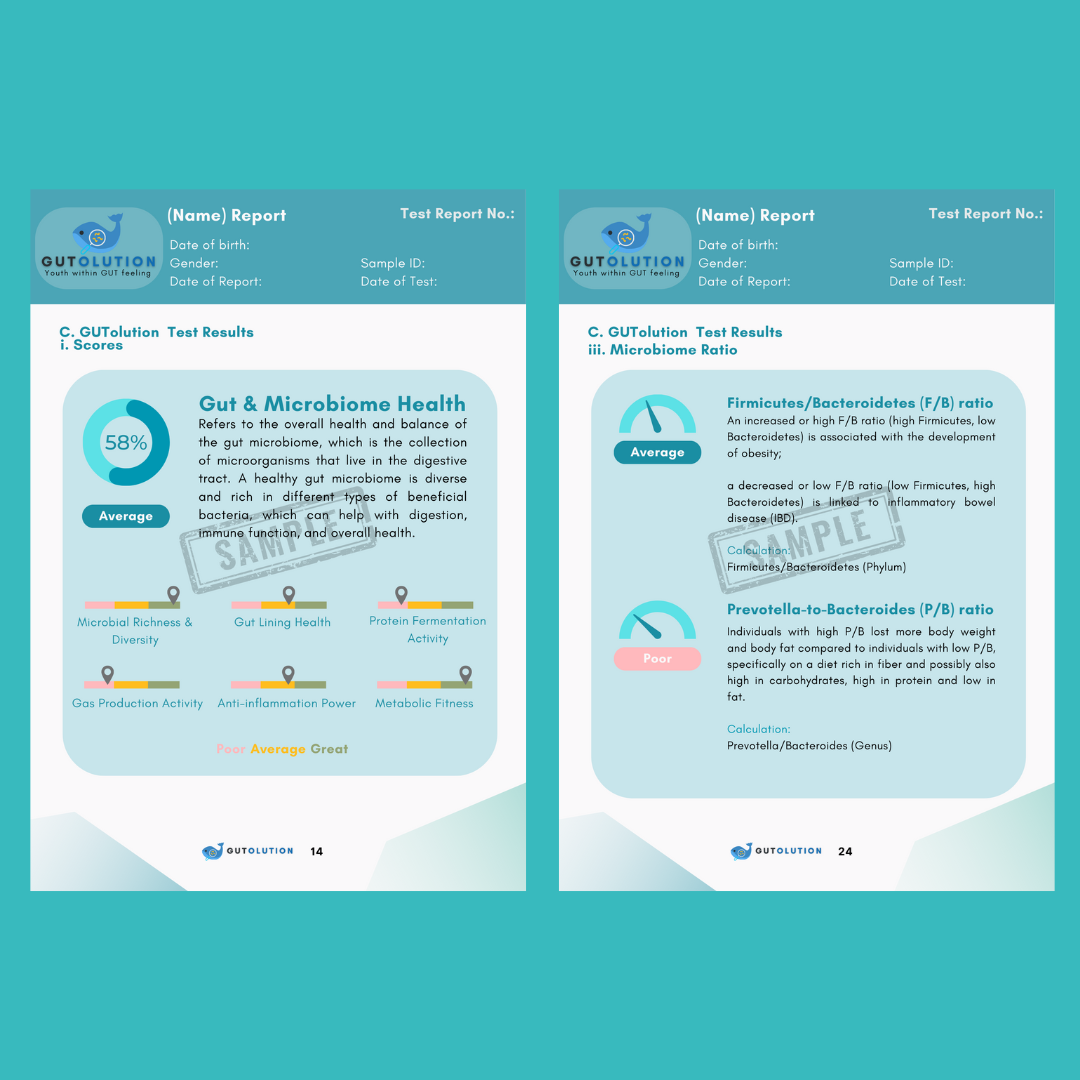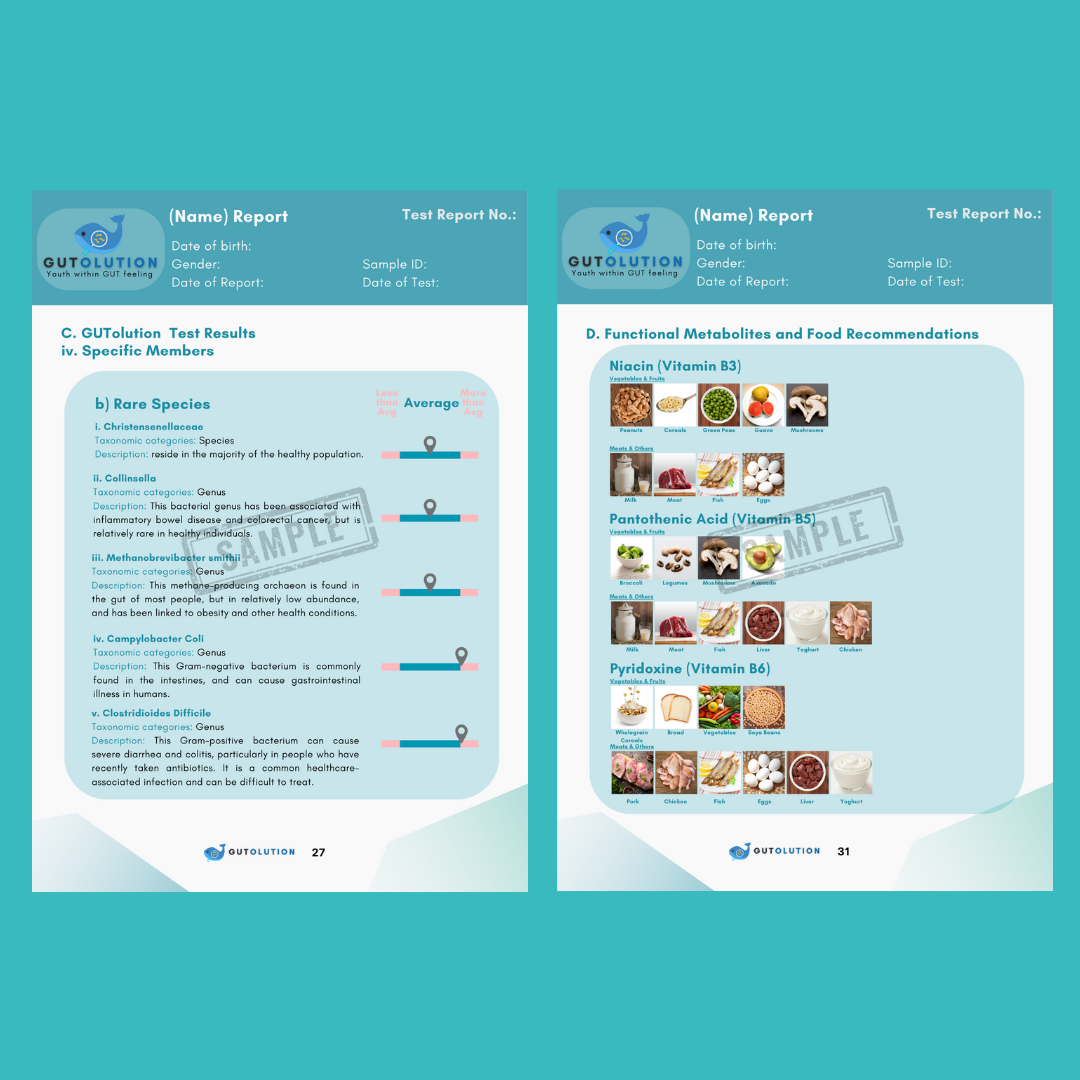 More About Our Product
Why do you need this?

This is for you if you want to:

enhance your immune system and brain health
remove toxins and excess fat deposits in your body
decrease abnormal inflammatory responses of your body like skin irritations
relieve repetitive issues of constipation, diarrhea, bloating, gut discomfort
increase the effectiveness of antibodies and vaccines
What is included?

Our package includes:

Free-delivery sample collection (with tracking delivery within 3 working days)
Clinical-grade sample extraction and sequencing service
Comprehensive gut microbiome analysis with detailed reports
Personalized nutrition and lifestyle recommendations through our app
GMP certified probiotics tailor-manufactured for your microbiome (freshly delivered monthly)

Our gut test kit includes:

Fecal sample collector
Sample collection bottle, spoon, and sealable bag
Disposable gloves
Personalized test quick guide

What do we test?

We use state-of-the-art shotgun sequencing technology to sequence the whole genome. Our gut health test will detect living microbes like bacteria, yeast, viruses, fungi, and parasites directly from your gut microbiome. Through analysis by scientists and our machine learning model, we formulate specific health scores and personalized probiotic formulas based on your gut's microbe distributions.
Have you ever experienced...
Long Covid

Irritable Bowel Syndrome (IBS)

Sleep Deprivation

Tiredness

Brain Fog

Skin Aging
Subscription Plan Details
Month 1: Gut Health Test

Day 1:
We ship you a gut test kit immediately after your order is confirmed.
Day 2-3:
You collect and return your fecal sample to us. You will also fill in a survey for us to better understand your gut health.
Day 4-30:
We send your fecal sample to our partnering laboratory, which uses shotgun sequencing technology to sequence the whole genome. It tests over 3500 types of living microbes to build a full DNA library of your gut microbiome.


Month 2: Recommended Probiotics & Gut Health Report

Day 1:
We ship you our recommended probiotics (for 1 month).
Day 16: (45 days after we receive your sample)

You receive a test report through email and the GUTolution™ App after our A.I. model analyse your gut health.
Our scientists will arrange 1 on 1 consultation with you to kickstart your health coaching program.


Month 3: Your Personalized Precision Probiotics

Day 1:
We ship you your GUTolution™ Precision Probiotics (for 1 month), which is uniquely formulated based on your gut microbiome test result.

Month 4: Personalized Precision Probiotics & Renewal Offers

Day 1:
We ship you your GUTolution™ Precision Probiotics (for 1 month).


Renewal Offer:
As your gut microbiome is changing and profile need to be updated every 3-4 months,

After you renew your subscription, a free gut test kit will be given for you to analyse your current gut health.
Your personalized probiotics for upcoming months will be reformulated according to the new test result for better performance!

解決經常肚痛
之前都換過唔同牌子嘅益生菌,一直解決唔到出門成日肚痛嘅問題,呢隻牌子嘅益生菌會先檢測你腸道問題,實際幫到近呢幾個月要係街搵廁所嘅煩惱,值得一試
Basicallly cure my IBS
GUTolution's Precision Probiotics have been great for me. For many years I have taken over-the-counter probiotics but I never had results like I have had in the past three months of my taking these custom probiotics. I feel I have more energy, have not gotten sick, and feel my overall health is much better since taking my customized probiotic, especially my IBS. I love knowing that I am taking a probiotic that is specifically designed based on my gut makeup and based on my dietary intake. I highly recommend everyone taking a better understanding of their gut biome and using GUTolution.
Detailed report
This program really helps much, before I has IBS syndrome, but it provides me gut analysis results that even clinic can't check for me. Although the time is a bit longer than expected, it definitely deserves a comment.
Frequently Asked Questions
What is the Gut Microbiome? Why is it important?

The gut microbiome is the community of microorganisms living in your gut that plays a critical role in digestion, the immune system, brain function, metabolism, and disease prevention. An imbalanced gut microbiome can lead to a range of health problems. To prevent that, our precision probiotics program is designed to restore balance and promote a healthy gut microbiome. By improving digestive and immune function, precision probiotics can help you feel your best.

What sets GUTolution apart from other programs and tests?

GUTolution's Precision Probiotics Program is a uniquely personalized microbiome health solution at an affordable price. Our program is specifically designed to help reverse chronic illness at home, improve brain function, and lead a healthier lifestyle. This personalized, at-home, and affordable precision probiotics program is unique in Hong Kong.

Why do I need personalized probiotics more than off-the-shelf ones?

Off-the-shelf probiotics are standardized, meaning they have the same formulation for every bottle and for everyone. However, everyone has a unique and ever-changing microbiome. A personalized and adjustable probiotics program is much more effective. To resolve chronic symptoms that are related to microbiome imbalances, a probiotics formulation like ours that updates over time is needed.

How does the Precision Probiotics Program work? / What are the steps of the program?

After subscribing to the program, the logistic company will send out to you a gut test kit within 7 days with which you will provide the stool sample. Afterwards, the logistics company will collect the sample within 3 days upon request and send it directly to our partnering laboratory. The laboratory will build a full genome library through extracting the sample's DNA then sequence it. After 4 to 6 weeks, the laboratory issues a report to us where we will further analyze with our artificial intelligence model and provide you with a detailed report, personalized probiotics, and 1-on-1 consultation with our nutritionist.

What indicators are analyzed through the gut test? What scores will the report provide?

The gut test will analyze specific microbiome indicators that correspond to various aspects of your overall health condition. The report will provide detailed explanations and recommendations on 5 sub-domains: Cell & Anti-Aging Health, Heart & Metabolic Health, Immune System Health, Gut & Microbiome Health, and Brain & Cognitive Health. Each sub-domain is uniquely assessed and provided with a score.

What kind of recommendations will I receive from the Gutolution app?

Our app provides personalized recommendations on diet and additional supplements. You may expect a thorough report accessible through our app that details the specific aspects of your gut and overall health that need improvements on and specific recommendations to achieve these improvements on top of the personalized probiotics.

How will deliveries be handled?

Upon completion of your online payment, you will receive an email and WhatsApp message confirming your order in 2 to 5 days. Then, our warehouse will be instructed to prepare your products for delivery and send out in 3 days upon confirmation. Upon receipt, the customer shall make double check and sign on the delivery note. The customer shall report any discrepancy to us, if any, before 15:00 on the following day after delivery is received.
How will the products be delivered? Any payment options?

Delivery Options:
Hong Kong Office / Home Delivery (SF Express)
Hong Kong SF Express Store Pickup
Hong Kong SF Business Station Pickup
Hong Kong SF Express EF Locker Pickup

Payment Options:
Apple Pay
Credit Card (VISA / Master / Diners Club / Union)
Google Pay
FPS